RP Weather & Time
Time of Day:




Mid-Day





Weather:
Light Flurries

Season and Month:
Winter - Jaunary (WC Territory)
Year 3 (1972)

Joining the Pack
Make sure to fill in a joining form on our
STP Thread
!

Accounts will not be activated until you do so!
Top posting users this week
Top posting users this month
Page 2 of 2 •

1, 2
First topic message reminder :
The event will be none other than a birthday party night in the Zoo where Strong is in, and this is in honor of the Iberian wolf since the 2nd of October is his birthday and is then when will start.

Party in the Zoo
Starts on Oct 02, 2012 - Ends on Oct 05, 2012
"The animals into the zoo has started to act different, and only some of us will know why!"
THE ZOO TOPIC'S HERE
What does the Party involve?
Obviously, the players and participants of the party will not be the characters that are usually used in the development of the role play of the pack of STP. By this I mean that previously the person who will want to participate should create a new character, and character's standards in terms of species and number of them will be detailed in the following section.
Once registered, the next step will design a present to be given to Strong to end of the "night" in the RP game, it will be nothing less than Friday if everything goes as planned. More about the contest
PRESENT Here!
The available characters:
Wolves (8/8) FULL
These will be the companions of the enclosure where Strong is enclosed, to be consistent with the description of the Zoo that Zotori had wrote (here) will be limited to a maximum of 8 and one of the females must be pregnant.
- Strong (Yes, the DM) REFERENCE
- Anila (Night Hollow) ♀ - 4 years "PREGNANT ONE" REFERENCE
- Moon (Liberty) ♀ - 2 years REFERENCE
- Karis (Lacien) ♀ - 2

1/2

years REFERENCE
- Loki (Cheza) ♂ - 2

1/2

years REFERENCE
- Maddox (Lira) ♂ - 2

3

years REFERENCE
- Seer (Kamaji) ♂ - 3 years
- Brook (Spirit) ♀ - 2 years REFERENCE
Rats (3/3) FULL
There will be three to keep the cliché of almost all novels where mice are always a fun threesome. These are good spies who keep the wolves of the Zoo informed about what happens off their enclosure in exchange for part of their meal. That is why they are invited to the party.
- Leta (Terra) ♀ - 4 years
- Splints (PureBlood) ♂ - 1 year
- Quickin (Siberia) ♂ - 2 years
Ravens (2/2) FULL
These have always guided all stray wolves, and this couple will not missed this. Those who are going to interpret these characters must one be a female and one a male and they will be a sentimental pair, and confidential birds for the wolves. No word yet on why but are old friends of an old wolf that was in the enclosure and who already died, so therefore respects these crows.
- Munik (Sierra) ♂ - 1 year
- Rowelyn (Howl) ♀ - 1 year REFERENCE
Squirrels (5/6)
Squirrels are not always welcomed, as it is sometimes hard to understand its vocabulary and how fast they talk with their sharp voice. In addition on the days when they get very dull, are unbearable. Wolves do not eat them because in the Zoo are not hungry and because these small mammals always bring curious things of the outside world of humans. They are responsible for bringing all kinds of material benefit to the wolves, so six of them (the less tedious ones) were invited on behalf of all the zoo squirrels.
- Kruse (Gingersnap) ♂ - 2 years
- Zo-Zo (MoonShine) ♂ -

1/2 year


- Dex (Okami) ♂ - 2 years REFERENCE
- Coconut (Hiram) ♂ - 2 years REFERENCE
- Russa (Dark) ♀ - 1 year
-
Security Guard (0/1)
The Zoo at night is always guarded by some guards and so will be an interpreter who will go to literalize this character guarding the area where the wolf's enclosure is. Of course is not invited to the party, but this guard will suspect weird things.
Which are the party's behaviors?
Well there will be some conditions to follow during the party if not you will be penalized:
- Wolves cannot abandon the enclosure (place 11)
- You have to try to not be caught by the guard doing a strange behavior
- All Party event will occur at night, so adapt the messages to this situation once started the party
- Act like the specie that you are!
- Wear an avatar that shows your character with it's name on it during the event! Or show the image of the character of the Zoo to the beginning of each message.
- Follow all general rules about Role-playing!
Form to send the entry:
All entries may be send on this thread!
Meanings:
- Type of animal: You have to put name of one of the available ones
- Name: Put the name you want for your character
- Gender: Male or female
- Age: Age of the animal, must to be realistic
- Reference: Here is where you will show or describe the appearance of the character! Add whatever you need necessary! Markings, scars, eyes colors, build, etc..
- Sources: If your material used in the reference do not belongs to you (like photo-manipulation) you will share here the sources!
- Other info: Anything you want say about character, like if is the pregnant female in case of wolf
CODE
Code:

:star: [color=#3beb3b]Type of Animal:[/color]
:star: [color=#3beb3b]Name:[/color]
:star: [color=#3beb3b]Gender:[/color]
:star: [color=#3beb3b]Age:[/color]
:star: [color=#3beb3b]Reference:[/color]
:star: [color=#3beb3b]Sources:[/color]
:star: [color=#3beb3b]Other Info:[/color]
REFERENCE
REFERENCE
REFERENCE
Last edited by Kamaji on Wed Oct 31, 2012 6:56 pm; edited 20 times in total (Reason for editing : Adding Dark)
Hello,
Guest
!
Please do not forget to read the
Forum Rules!
Thanks!:D
©
Signature
:
Facial expression edited by Strong / Original pixel drawing by Nafeera
©
Avatar
:
Edition by Strong / Original photo by Kati H. of Dawnthieves

Strong

DOMINANT MALE




Posts : 2747



---

Type of Animal: Squirrel

Name: Coconut

Gender: Male

Age: 2

Reference: The sources have the reference. No detail was changed. :3

Sources:
http://lou-in-canada.deviantart.com/art/just-before-the-diet-194122033
http://lou-in-canada.deviantart.com/art/I-do-tricks-195082556

Other Info: He's a fat, loveable rodent.

Hiram

PURVEYOR




Posts : 366




Type of Animal: Wolf

Name: Brook

Gender: Female

Age: 2 years

Reference:
http://i.imgur.com/xcdAo.png

Sources: lolol
http://i.imgur.com/xcdAo.png

Other Info: Personality? Well, she's sweet and gentle and she wouldn't hurt a fly. Although she can be slightly moody at times, but she'll never really lash out and get mad.
❅
Spirit
❅
-Winter Clan Leader
then Warrior, then Educator, then Healer
Signature
Thaw
©
Avatar
:
Edition by Strong / Original photo by jack berry <Flickr>

Spirit

HEALER




Posts : 2052




Type of Animal: Squirrel

Name: Russa

Gender: Female

Age: 1 year.

Reference: I didn't change anything. The source covers the reference.

Sources:
http://www.sciencedaily.com/releases/2008/06/080620115855.htm

Other Info: She is friendly and nice with especially keen eyesight and hearing.
Original Picture
to Ben R. Edited by Strong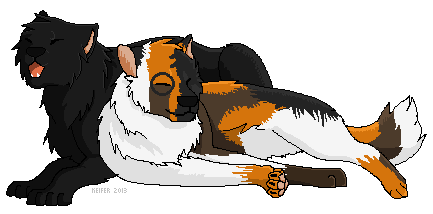 [276BUBBLE words=" I'm me!"]

Dark

CHIEF HUNTER




Posts : 1239



I am going to move and lock this since it is no longer needed.
Avatar
:
Edition by Strong <Original (C) Kati. H><More Info>

MoonShine

DOMINANT FEMALE




Posts : 3668



Page 2 of 2 •

1, 2
---
Permissions in this forum:
You
cannot
reply to topics in this forum